Home
About Company
President and Founder
President and Founder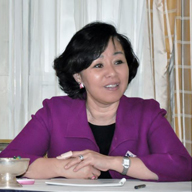 Ms. Florence Lowe-Lee is Founder and President of the Global America Business Institute (GABI) in Washington, DC. As President of GABI, she oversees the organization's fellowship programs and education/outreach activities on nuclear and renewable energy issues. Since its establishment in May 2011, GABI has sought to inform policy circles in Washington, DC on various policy-relevant energy topics, with a focus on Korea's energy situation, international civil nuclear cooperation, renewable energy R&D collaboration, and nuclear fuel cycle issues.
Previously, Ms. Lowe-Lee served as the Treasurer and Director of Finance and Publications at the Korea Economic Institute (KEI) for 19 years. At KEI, she was frequently interviewed by the U.S. and Korean media on current issues concerning U.S.-Korea bilateral relations. Ms. Lowe-Lee also organized and supervised programs involving senior officials from Korea and the United States, as well as visits by Korean government officials and National Assembly members.
Ms. Lowe-Lee also worked as Deputy Director of Operations for the Massachusetts Senate Ways and Means Committee, where she participated in the senior committee decision-making process. She served as an adviser to the Massachusetts Office of International Trade and Investment in its efforts to launch missions to Korea. She successfully organized and facilitated the first visit by a Massachusetts governor to Korea.
Earlier, Ms. Lowe-Lee worked as a research assistant at the Neuroanatomy and Neuroendocrinology Laboratory of Rockefeller University in New York City. She co-authored several articles that were published in Science, Neuroscience, and other scientific journals.
Ms. Lowe-Lee holds a B.A. in Neuroscience from Mount Holyoke College and received an M.A. in Industrial and Organizational Psychology from Columbia University.
Read Biography